GRANDT RODS NATIONAL ELITE PRO STAFF
Hall of Fame Spence Petros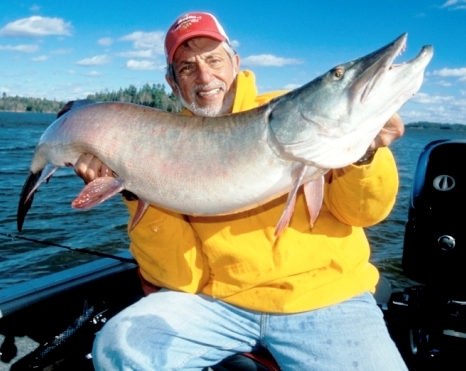 Need a rod for tossing smaller lures for early season muskies? Or how about a super-strong rod that can handle the tough tasks of working giant plastic lures or over-sized bucktails. How about sensitive rods that let you easily feel the beat of a whirling blade or the vibration or a running crankbait. Do you Troll? If so you have got to check out Grandt's new trolling rods that contain just enough Eglass and KV that gives them the perfect forgiving bend to hook and hold a thrashing monster musky. I'm a big fan of Grandt rods and have caught many big fish on them. He makes high quality custom rods for just about every conceivable fishing situation, and I don't go fishing without them. In addition, these beautiful rods are American made and come with a lifetime guarantee! Once you fish with a Grandt rod you'll be hooked for life!
Grandt Rods highly recommends Hall of Fame Angler, Spence Petros Fishing Classes.
---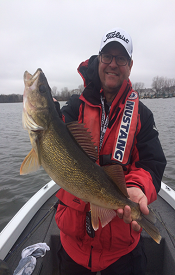 Bert Saxon The newest up and coming young stick added to the Grandt Rods pro staff. I'm an avid Walleye fisherman and have been chasing Walleye throughout the Midwest for nearly 45 years. I travel where ever the hot bite may be. I'm on the water 3-4 days a week and as you know that can be tough on your equipment. Throughout the year I can easily go through 2-3 rods per season. That's why I am excited to work with a quality rod company like Grandt Rods. Jim Grandt impressed me with the quality, sensitivity and durability of his rods and challenged me to put them to the test. Accomplishments:
President of Arlington Anglers Fishing club
Multiple big fish club awards
Personal best Walleye 30"
Lecturer
Strong supporter of take a kid fishing
---
Brian Belevender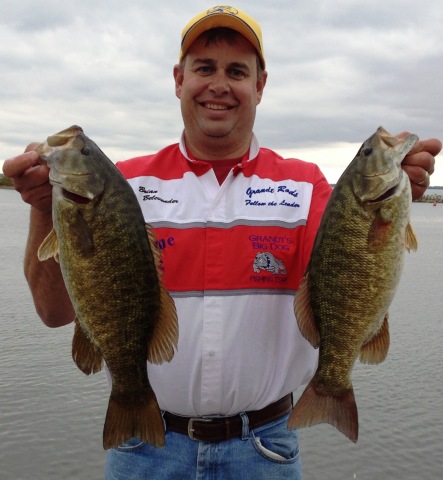 As much time as I spend on the water as a tournament fisherman, the equipment I use is very important to me, they are like using the finest tools in a wood working project. Confidence, Quality, Feeling the Bite through my Grandt rod is the most central part of fishing, and that is why a Grandt rod is superior and the only one for me. The Grandt rod line is the finest quality, utmost sensitivity and superior strength with leading technology in the Industry, and Made in USA. From the unique and fine tapers on the rod, to the latest materials and designs that are only available through Grandt to the strong lifting and hookset power, they perform perfectly for the tournament angler or just the fisherman that wants to feel everything and take his or her game to the top level . They are the best in the world. Here are just some of my favorite choices and their uses. Stealth and Payara for throwing plastics when you need the extra feel, E Glass 7 ft rod for my crank baits and my favorite XLH 70 RP Med Lt for drop shotting those big Smallmouth on Lake St. Clair. ACCOMPLISHMENTS
Youth Director for The Bass Federation of Michigan
10 years with Oakland County Bass Anglers MI
Fishing several different circuits on Lake St Clair , MI
Fishing 40 to 50 tournaments a year.
2012 TBF State Team Qualifier, MI
---
Scott Mehlberg
I have been fishing since before I could walk! My first memories were of family vacation up in Hayward, WI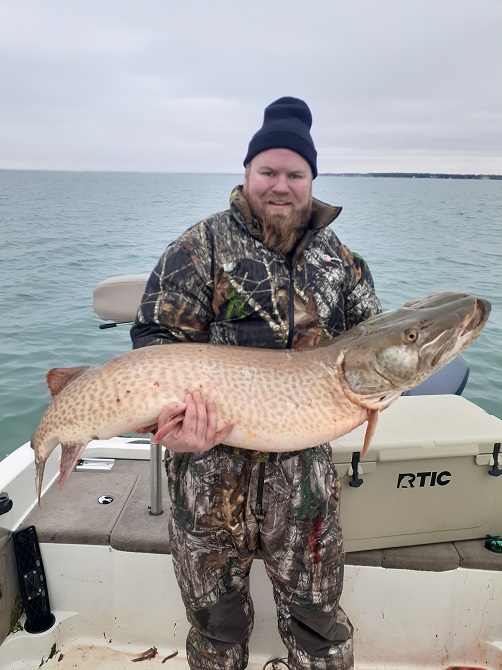 area catching fish, and most sought after, musky. I'm excited to announce my partnership with Dave Buche on the PMTT 2021, as a trail team, and look forward to putting our vast numbers of fishing years, experience and Dave's lure business Buche Backwater Blades to the test!
Impressed is an understatement when it comes to talking with Jim Grandt and his passion for fishing and rod development. He has spent countless hours detailing every possibility on my custom fishing rods. As a Project and Product Manager myself, Jim uses lessons learned, his experiences and his passion to develop the best rods for whatever you are fishing. If you speak with him about a custom rod, you will leave with an abundance of knowledge and understanding that you never knew existed in rod making. Seat bases, eyelets, rod blanks and handles, he knows it all, and how to put it together so you put more fish in the boat. All with a lifetime warranty!! Jim has the heart of a teacher and a passion for the best fishing experience for everyone. You're not buying a rod, you're joining a family.
I'm excited and blessed to be a part of the Grandt Team!
---
Frank Lepera
It doesn't matter what type of fishing you do from saltwater to salt-free water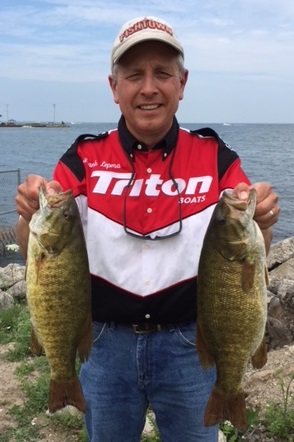 Grandt Rods do make a difference in detecting that light bite that everyone struggles with. Being sponsored by another rod builder, I had the opportunity to use some of the Grandt Rods and could not believe the difference it made in my bite to hook set ratio. With the attention to detail that Jim Grandt puts into his rods to help with detecting the bite to fighting the fish and getting it to the boat, are some of the most critical aspects to the equipment we use for fishing and being successful at it. I do spend a lot of time on the water tournament fishing and have found that with the selection that Grandt Rods offers such as the Cuda series rods that I use for spy and swim baits and the Payara series for worms, tubs and drop shoting definitely will improve your success. See you on the water.
Co founder and former Coach for the Michigan State University Bass Fishing Team helping them to win Three Big Ten Titles.
Member of the Michigan TBF Circuit
Member of the FLW Circuit Member of Cash For Bass Circuit Accomplishments NBAA: 1st Place Lake St Clair Double Barrel National BASS: 1st Place Lake St. Clair Super Bass Open Anglers Choice: 1st Lake Erie, 2nd Place Lake St. Clair Michigan Bass-N-Gals Open: 1st Place Lake St. Clair Greater North Tournaments: 1st Place Lake St. Clair Cash For Bass: 2nd Place Classic on Hubbard Lake, 2012 Lunker of the Year
---
Ferd Lohman
Professional Walleye Angler
Tournament Angler

I started fishing tournaments about nine years ago. Tournament fishing reallytakes a toll on you and your gear. That's why I use Grandt Fishing Rods. They are built for years for use and can handle anything you can dish out from fun fishing with the kids to tournaments on Lake Erie. The feel and sensitivity are second to none. I have fished the Masters Walleye Circuit, The Western Ohio Walleye Circuit and The Mid Ohio Saugeye Trail.
Accomplishments:
Eleven First place finishes
Ten top Five finishes
Four in the money finishes in the Masters Walleye Circuit
Four time Qualifier for the Cabelas National Team Championship
Two Team of the Year titles in the Western Ohio Walleye Circuit
Three time Richard T Gaston Memorial Walleye Tournament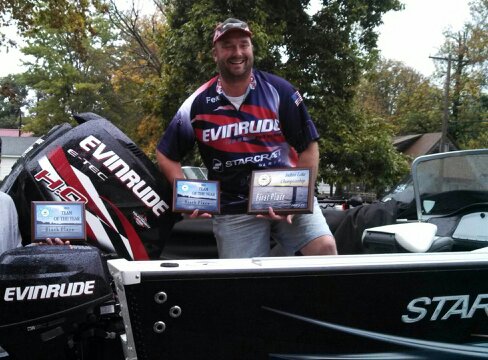 ---
Jack Ireland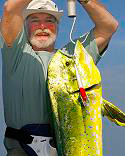 I have been using Grandt rods since the mid 1990s. Without a doubt Grandt Rods meet all your fishing needs and expectations in every possible way. Need a sensitive rod to feel that soft bite that others miss, you got it. Need the heft and strength to wrestle the big ones, you have it in the same rod. I fish large channel cats, northern pike and lake trout with the same XLH-70 rod that I use on the ocean in Costa Rica for 100 lb plus tarpon. The sensitivity of this rod lets me feel the slightest tap on the hook that otherwise would have been missed. This results in many more hook sets and more fish to the boat. But after the hook set you need the rod to be able to handle a heavy, fighting fish in any condition of wind, waves and current. Grandt Rods are designed and built to do this, and do so with unparralled success. Like a little flash in your rod as well, no problem, select some fancy windings and feathers and your rod is ready for the display case when you're giving it a rest. Run into a problem with your Grandt rod, not a big deal, Grandt Rods offers unmatched warranty service, just contact them. Overall, I firmly believe Grandt Rods are the complete rods and will meet any of your fishing requirements. The only thing as good as the integrity of the rods is the integrity of Jim and Jacqueline Grandt and their staff. ACCOMPLISHMENTS
Bush pilot and guide (now retired) in the Northwest Territories, caught numerous lake trout and pike in the 20-40+ lb size.
Several Manitoba Master Angler Awards for channel catfish and rainbow trout.
Three time winner of the Jim Grandt Tarpon Classic in Costa Rica.
---
Dr. John R. Thodos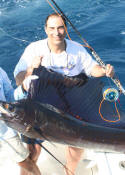 I've been fishing Grandt rods exclusively since 1986, that's 20 years of serious hardcore fishing. I've fished with his rods all over the world, Alaska, Canada, Central America, South America, Africa and the Pacific. Everything from panfish to Marlin. The action, backbone and all out engineering that goes into Grandt blanks is what it's all about. It's the rod that fights the fish, not the hook, line, reel or even angler. It all boils down to the rod. ACCOMPLISHMENTS:
18',1100+lb Hammerhead shark caught on 30lb test line
53lb(test)Muskie released-wt based on length/girth measurements
15lb 4oz Largemouth Bass
12lb 4oz Walleye
12lb & 15lb Tigerfish caught on the Zambezi River, Zimbabwe on Grandt 3 piece spinning pack rod w/ 12lb test line
---
Captain Norman Hyett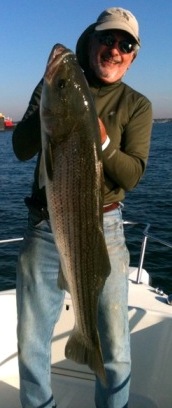 When my clients catch fish this big on 12 lb. test line, I need to make sure that all my equipment holds up to the task. Leaving nothing to chance, I rely on Grandt Rods. As a charter boat captain in Boston, MA for the past ten years, I've needed a rod which can both outcast others when distance is needed, help set hooks quickly, and be strong enough to fish big baits in the fall. Grandt rods do it all. They're what I use when I go fishing, and I would recommend them everyone from experts to novices. As a retired psychologist, guiding has allowed me to continue to interact with adults and children while continuing my lifelong love for fishing. I consider myself quite fortunate. Boston Harbor, and its surrounding islands, offer people a tremendous opportunity for fishing. The past two years have truly been outstanding both number and size wise. For more information and pictures, go to my website: flyingfishchartersinc.com.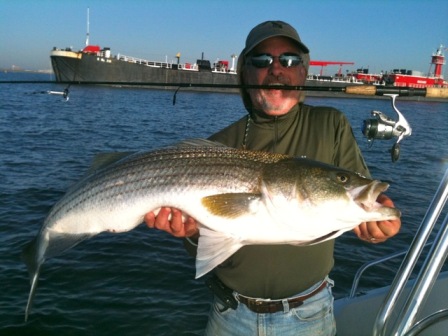 Captain Norman Hyett Website: www.flyingfishchartersinc.com E-mail: flyingfishcharters@mac.com Phone: 617-909-0912
---
Jeff Gibson

The past two seasons, I've had the honor of fishing with the finest rods in the business. Grandt Rods have not only increased my big fish numbers, but have led me to numerous top five finishes and consistently cashing checks. Jim's fine craftsmanship offers me superior feel when the bite is light and, at the same time, gives me the backbone I need when the big boys fight back. When it comes to sensitivity, durability and customer service, Grandt Rods are undoubtedly the leaders of the industry. The real beauty of these rods is in the "Lifetime Warranty", unmatched by any other rod manufacturer today. Believe me when I say, If it wasn't for the cutting edge equipment that Grandt Rods has to offer, I wouldn't be where I am today on the tournament trails. ACCOMPLISHMENTS
1999,2000-2 time Rose City Bassmasters Team of the Year
Member of South Western Ontario Bass Association
2001-5th place classic qualifier (SWOBA)
2002-8th place classic qualifier (SWOBA)
4th place classic finish (SWOBA)
5th place Master Angler (SWOBA)
2 consecutive 1st place finishes and a 2nd place out of 5 Fall Challenges (SWOBA)
Member of Essex County Bass Anglers 2002-1st and 2nd place finishes including a Big Bass Award
---
Captain Rick LaPoint

Professional Guide: In my guide business rods get mishandled, abused, and banged around 250 days a year. They perform as well on the 1st day as on the 250th day! Simply the finest rods I have ever used, with the best warranty in the business. ACCOMPLISHMENTS
Heartland Pro-Am Table Rock Champion 25.18 lb. 4/13/2008
Finished 1st Weekend Warrior Championship
Finished 1st Central Pro-Am Championship - 2007
Finished 1st Best of the Best Championship - 2007
Won Missouri BASS Federation State Championship 2003
Visit Rick's Chauffeured Guide Service, Inc
---
Nick Marsh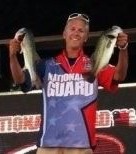 Grandt rods are the leaders in technologically advanced tournament rods, hands down! Being a youth in this sport I am on the forefront of some amazing technology being introduced to fishing. These rods are first in line when it comes to that technology. I can be absolutely certain of every bite I get when those precious seconds tick by. Recently winning my TBF 2012 high school regional, I know it was because of my Grandt rods. I was able to feel that one bite that would land my partner and I the winning fish. That's what matters, what equipment will help you put more fish in the boat. Not to mention the reliability of these rods are incredible. All the rods are ultra sensitive yet maintaining great backbone. It's the best of both worlds. No matter what fish you are targeting Grandt rods have something for you. And who can beat an American made rod with a lifetime guarantee! I know every time I go fishing whether it be for fun or in tournaments ill have a Grandt rod in my hand. It's hard to pick a favorite series but at the moment it would have to be the XLH70RP Series Reserve Power. I am absolutely loving my 7'0 reserve power casting rod. The sensitivity and backbone are like no other rod I have ever used. These rods have proven to me Grandt is the only way to go. Like everyone says just "Follow The Leader".
---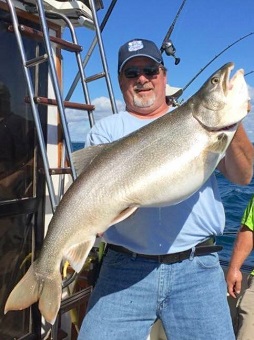 Captain Jerry Costabile Lake Michigan Charter Captain Pro Series Great Lakes Salmon Tournament Angler Trolling on the Great Lakes requires tough, durable, long lasting equipment, Grandt Rods gives us that. As a charter captain and pro tournament angler, I need a rod that I can trust to always preform at the highest level, Grandt Rods provides that trust. The Salmon Trolling Series covers all of your trolling needs with a full line of high quality rods. From the EXC286M for downriggers, or the EXC286MH for planer boards, the high modulus graphite plus Eglass blanks provide the toughness and sensitivity to battle big trout and salmon on the Great Lakes. The power plus the soft action make them the perfect salmon/walleye trolling rod! When steelhead and salmon make their annual spawning run, Grandt Rods has you covered with the XLH70 Salmon/ Steelhead Series. There is a rod for every presentation in this series, from casting spoons to floating spawn skein, Grandt has you covered. Knowing my Grandt Rod is made in the USA and carries a lifetime warranty, makes it the only choice for me. Past IGFA World Record Line Class Walleye 4# Test 15lb 12oz 2017 Kenosha Sportfishing Angler of the year 2016 Kenosha Sportfishing Angler of the year 5 Time Kenosha Sportfishing Big Fish Award 3 Time Top 10 Southwest Salmon Series 2 Time Top 5 Milwaukee Brew City Salmon Tournament 1st Place Salmon A Rama Super Sweepstakes Tournament 3 Time Top 5 Salmon A Rama Super Sweepstakes Tournament
---
John Cullum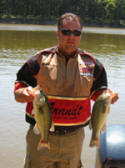 Professional Angler: There's a reason Grandt Rods are the "finest Fishing Rods in the world." Grandt makes their own blanks and they are made here in the United States. They're also backed by the best warranty in the business. If a Grandt rod is broken in anyway fishing or other wise they'll replace it free no questions asked. This warranty also covers accidental breakage like rod lockers, car doors etc. How could you go wrong with that? There's a lot of "rod builders" out there that wrap guides and put handles on other companies blanks. Buying a rod blank and putting guides and a handle on it means you have very little knowledge about the blank that your wrapping, the material that is used or the process in which the rod blank is made. Not the case with Grandt Rods. Jim Grandt knows about the product his name is on inside and out. The material that is used the method in which the rod is made and how the rod should be balanced are all major factors on how a rod performs. From the start of the rod process until the rod is complete its in the hands of Grandt Industries. This insures your fishing rod is handled with care and made right the first time. Jim Grandt is the owner of the company and personally answers 99% of the emails and phone call the company receives. This kind of hands on equals greater customer service and a really account on who his customers feel about his product. He hasn't lost touch of what it means to be a custom rod company and it shows in the quality and beauty of his Fishing Rods. So if you see them at an outdoor show drop in and ask for Jim Grandt.
---
Captain Don House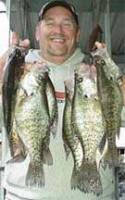 Professional Angler: Hands down the best Fishing Rods on the market, very strong and very light weight. Grandt Rods has a Warranty that no one in the market can even come close to. First class rods and a first class company. A must have for any Angler. ACCOMPLISHMENTS
Tournament Angler and Full Time Professional Fishing Guide on Table Rock Lake.
Specializing in Crappie and Deep clear Water Bass Fishing.
With over 15 years of experience fishing all of the Missouri Lakes in clean and dirty water for bass and crappie.
Website: www.bransonfishingguideservice.com
---
Jeff Greene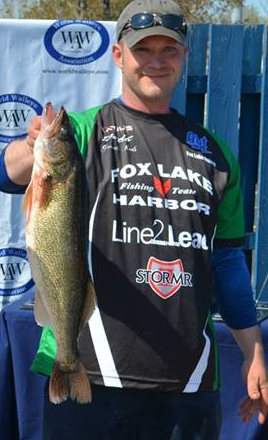 From fishing multiple bass circuits to now fishing walleye against some of the best, I know the importance of having the best tool for the job. Grandt rods is just that by having the technology to make the most sensitive rod out there along with the backbone and quality for big fish. As a fisherman, there is nothing more important than being able to feel that light bump of a walleye while dragging a jig through the thickest of weeds. Whether it's a tournament on the line or just a day of enjoying the outdoors, you can bet I'll have a Grandt rod by my side. Accomplishments: · Multiple top 5 and top 10 finishes in bass tournaments in multiple bass clubs and circuits across Midwest. · Several top 5 yearly placements in WWA · Multiple top 5 and top 10 tournament finishes in WWA · 2013 WWA championship 3rd place finish & Big Fish · 2014 WWA Team Of The Year
---
Charlie Champon

Our owner, Charlie, insists on the finest styling and best feel tackle available. I, as the captain, demand the best in functionality of tackle. Aboard Mirage we have full sets of 12, 20 and 30 lb spin that we use primarily for sailfish tournaments in Florida. We have full sets of 30, 50 and 80 class to employ when we up our game to marlin or swordfish from the Bahamas to the northeast's canyons... From my stand point having a spine that evenly distributes pull without being too soft or too hard, is essential in having an edge over the fleet when using circle hooks like we must now... There's enough backbone built in to take the steam out of even the most stubborn fish... Compared to others she truly is art. There are other big names out there that are either too stiff with their action which can cause failure at hook setting time using circles. Others being too soft don't give you the stopping and turning power of the Grandt rods we use.
---
Mike Jackson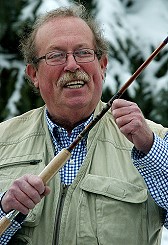 Rugged, ultra-sensitive, and a pleasure to use The entire line is powerful and very sensitive, aside from being extremely rugged. My Grandt Rods have never let me down, in both fresh and salt water. ACCOMPLISHMENTS
Host of Mike Jackson Outdoors Radio, heard coast-to-coast on the Outdoor Sports Radio Network, and WSBC, AM-1240 in Chicago.
Outdoors Editor for the Daily Herald, one of Chicago's major, daily newspapers. His radio show has been called "the best outdoor radio talk show in the country (Al & Ron Lindner)
Website: www.mikejacksonoutdoors.com
---
Lee Bailey Jr.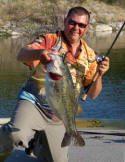 Professional Angler: As a Bassmaster Elite series and FLW touring pro my rods need to hold up. Competing over 200 days per year in all types of climates my Fishing Rods take a beating. I can always count on Grandt rods to give me the sensitivity and strength I need in my arsenal of custom Fishing Rods. When Grandt says "Follow the Leader" he means it, anything else is second rate. ACCOMPLISHMENTS
2007 Bassmaster Classic Contender
2008 Bassmaster Elite series contender
3-time Bassmaster classic Qualifier
Founder ProAnglers.com
Designer - Lure/Websites/Boat & Vehicle Wraps
Lecturer - TV host - Author
Website: www.proanglers.com
---
Michael Hall

Professional Angler: My first Grandt rod was a XLH70 spinning rod Series 6'6" medium heavy I used for Carolina rigging. I was amazed at the superior quality, comfortable feel, and incredible sensitivity of the rod. The rod helped me to do well in several bass tournaments where detecting subtle bites was a key to catching the bigger bass. Today I use the Grandt XLH70, Reserve Power, and the All American Grandt series rods exclusively in all my bass tournaments. In 2005 they helped me to win the FLW Outdoors Potomac EVERSTART tournament. In 2007 they helped me to finish in the top ten for the year in the FLW STREN Northern series. With Grandt rods you will feel more bites, have a better hook to catch ratio, and have increased confidence in your ability to catch more bass. Grandt rods have the best sensitivity of any rod that I have ever used in over 30 years of bass fishing. You can feel a bass breath on your bait. As the use of finesse baits becomes a bigger factor in catching highly pressured bass, the Grandt rods standout as the world's best. The comfort and feel of the rod is another key advantage that Grandt rods provide the angler. The All American series is extremely lightweight and the design of the handle makes it the most comfortable of any rod that I have ever used. The Reserve Power series has incredible power in the butt of the rod where extra backbone is needed for moving fish quickly away from cover. The XLH70 series are fantastic rods with ultimate sensitivity for techniques such as Carolina rigging and using jigs. When you own and use a Grandt rod, your best will become better when it comes to success in fishing. ACCOMPLISHMENTS
Mike is a Lake Anna and Potomac River Fishing Guide
Finished 1st Place in the August 17, 2005
Potomac River Stren. Payout was 49,400
Finished 9th in 2007 Potomac River Stren
Finished 14th in 2007 Hudson River Stren
In 2007, finished 10th in the Stren Northern Division to automatically qualify for the FLW Tour
In 2008, competing in the FLW Tour
Website: www.mikehallfishing.com
---
Gale & Marvin Radtke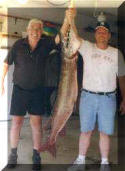 World Record Holder: We've been using Grandt Rods for many years..... Never had one go bad on us. Jim is a genius when it comes to rod making. And he puts quality above all other priorities when it comes to making a rod. ACCOMPLISHMENTS
Gale landed this 58 1/2" musky on a Radtke's Pike Minnow on July 10, 2002. He was using an all Black Radtke that Marvin had specially made. This fish has been recognized by the Freshwater Fishing Hall Of Fame as a World Record Musky for trolling with 25# test line.
---
J.E. VanNatta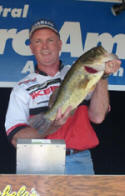 Professional Angler: As a tournament fisherman I require the equipment I use to provide the highest degree of performance, durability, and value that I can find. The All American Pro and Golden Supreme Series Rods provide all of this and more. Many manufacturers design rods to catch fishermen, at Grandt Industries our rods are designed to do one thing, help you catch more fish by placing the finest, most sensitive tool available in your hands that you've ever used. When you combine these features with the knowledge that our rods are manufactured right here in the United States of American not just assembled by mass producers, from finest materials available and with detail beyond anything else made inside, our outside of the United States of America. When you top this all off with the industries finest Lifetime Warranty and customer service from a family owned business, well then you have a complete package that cannot be beat.
---
Kim Presbrey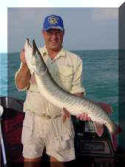 VIP: Have caught close to 100 Muskies trolling with Grandt Rods on Lake St. Clair. No nicks, no cuts, no breaks of anything on these rods. They are tough rods with fast tips. Great trolling rods for big fish. ACCOMPLISHMENTS
Caught 50# musky on "Death Stick"
Won Grandt Tarpon Tournament in 1998
---
Vince Bianchi

Professional Angler: This big Lake St. Clair Pretty Girl was caught on my very favorite Grandt Musky Rod. The action is Unbelievable... A super all around Musky rod. I use is to cast, jerk and also troll. Having used all the other musky rods on the market over the years, This Grandt rod is so superior, its the only one you will ever see me musky fishing with. Jim Built me 4 downrigger rods a few years back.. They are the envy of all the Charter boat Captains in my area of Western Lake Ontario.... The sensitivity is unreal, and the beauty of Jims feather scheme is a real eye catcher. I can hardly wait for the spring run to once again put these beauties to use. You'll never find any better or as beautiful setups as Jims Outrigger rods. ACCOMPLISHMENTS
Manufacturer of the Glitter Bitch Bucktail
---
Jason Slagstad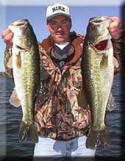 Professional Angler: I consider myself a deep structure fisherman and the biggest reason I use Grandt rods is, when the wind is blowing and you have a Canadian cold front blowing through Northern Wisconsin I need to feel every bite even when I can't feel my hands. With Grandt Rods they are light and the most sensitive rod I have ever used. ACCOMPLISHMENTS
2001 angler of the year Tri R Marine - Champion boats Tournament trail
2001 Tri R Marine Champion Boats tournament of Champions 1st place
2001 Champion Bass Boat and Mercury Outboard
2001 7 1st place finishes and 14 top 10 finishes
2001 Qualified for Stratos Boats Regional
2002 Runner up top money finisher in Wisconsin Team Circuit
2002 4 1st place finishes 12 top 10 finishes
2002 Qualified for 2003 Stratos Owners regional
---
Chris Laros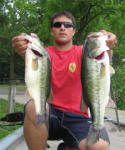 Professional Angler: I use Grandt Rods because of the durability, sensitivity and feel. These rods are great for all applications of fishing. The warranty is unmatched in the fishing industry and it allows me to fish with confidence where ever I am fishing. I have also used these rods in Costa Rica where I caught a 23lb Jack Chrevelle on a 7MH conventional fishing rod. I do not know of any other rod that can handle a fish like that with ease. Thanks Jim -- Your rods make me a more confident fisherman. ACCOMPLISHMENTS
Degree in Fisheries and Aquatic Science from Purdue University with a focus on Fisheries Management
Past member of the Purdue Bass Fishing Team
Was on the committee to start the Collegiate Bass Fishing Championships and the National College Bass Fishing Tourney
Two top ten finishes in local tourneys in Indiana in 2007 on Lake Monroe
---
Swift Spaulding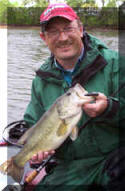 Professional Angler: For the past seven years, I've had the opportunity to be sponsored by some of the top market names in bass Fishing Rods including names like G-Loomis, St. Croix, Falcon and All Pro. Grandt Rods are the lightest and most sensitive Fishing Rods I've ever used. In my line of work you have to be able to feel every type of structure and change in the bottom in order to duplicate patterns. Grandt rods allow me to locate those areas. The fact that they're made in America and come with an unconditional life time warranty is second to none. It's an honor to work with such a class organization where quality and customer satisfaction is the top priority, anything else is second rate. ACCOMPLISHMENTS
Wal-Mart BFL (1999-Present)
Virginia Pro-Am circuit (2000-Present)
Renegade Bassmasters (Club) (1994-Present)
BASS Eastern and Northern Pro Trail (1999-Present)
Foxwoods Bass Challenge Tour (2000-2002)
Member of Professional Bass Association (PBA), Received Professional status in 1999.
Professional Guide with Life Outdoors Unlimited.
OUPV licensed Captain with US Coast Guard.
---
Cory Sornson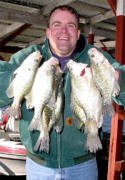 I wanted to personally thank you for making the best rods I have ever had the privilege to use. They are simply unreal and so much fun to use. A picture of a successful crappie outing using Grandt UL rods. Thank you, Cory Sornson
---
Captain Doug Schreiber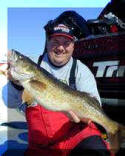 Professional Angler: Why buy Jim Grandt Rods? That's an easy one, because Jim builds a fishing rod the way I would, if I built rods. First, Jim manufactures the finest rod components and blanks for his rods. Second, he uses the best components and blanks when he builds his rods. Third, no short cuts in the assembly process, just hands on U.S.A. quality. Last and not least, lifetime warrantee. The bottom line, Jim builds rods the old way, with pride. ACCOMPLISHMENTS
Host of On The Water Adventures Fishing and Outdoors Show
Owner of Hot Jigs and Hot Jigs Guide & Charter Service
Host and producer of The Bite fishing show on WLUK Fox 11
2000 Sturgeon Bay Bass Open, 15th place finish
2002 Sturgeon Bay Bass Open, 4th place finish
www.hotjigs.com
---
Keith Nelson

I use Grandt Rods because once I used them I fell in love. I can feel every little tick they are so sensitive. I had a dragonfly land on my rod and with it's wings buzzing it felt like a weed whip running full throttle in my hand. I know I'm catching more fish because of the advance notice the tick of the fish hitting my lure gives me. The battles are awesome too. I've noticed the whole rod is working for me not just the last half of the rod like with the other brands I've used. The blanks are loaded with power for great hook sets too. I have to mention how light they are. Being I troll for hours on end the heavier poles made my hands sore ,but not with a lightweight Grandt. Oh my I almost forgot about the guides being made of titanium. I can cast much further with less effort. I'll never give up my Grandt's since my days on the water just got way more fun! I wish you could see my videos of how they are performing! ACCOMPLISHMENTS
I've fished and guided North Central Minnesota lakes.
Pike, Walleyes, Crappies and Bluegills are my target fish.
We do a ton of ice fishing here too since the lakes are frozen for more than 5 months a year.
Being involved with several fishing forums has allowed me a platform to teach fishing from. There are thousands of folks I've helped.
No tourney entries ,but fishing 200 days a year let's me keep the pulse of the fish.
I have my own line of super small hair jigs that I personally hand tie.
I also run a few fishing seminars through out the year.
---
Brad Lear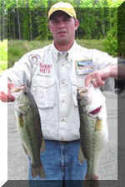 Professional Angler: In only a short time with Grandt Rods, I have come to know quality and reliability in both craftsmanship in the rods and customer service. I have now fished in three tournaments with the rods, and I can say without a doubt that these rods are extremely sensitive, and super strong. Jim and the staff at Grandt Rods are prompt in their responses to questions, and get product shipped out the minute you order it. As a tournament angler having the product in your boat allows people to see that you are confident, and depend on this product to deliver results. The All American Series are excellent rods, that are well-built, strong, and ultra sensitive. ACCOMPLISHMENTS
Virginia BASS Regional Federation BASSMASTERS 2003
First Place - BASS Classic - Lake Anna, VA 2003
Big Fish Award - BASS Classic - Lake Anna - 2003
Federated Club - Commonwealth BASS Anglers 2003
First Place- Potomac River, 2003
First Place- Lake Chesdin-2003
First Place -Potomac River-2003
Second Place-Potomac River-2003
New Horizon Bass Anglers 2003
First Place-Lake Gaston-2003
First Place-Kerr Reservoir- 2003
First Place - Potomac River- 2003
---
Len Harris

My name is Len Harris. I have trout fished the streams and rivers of the Wisconsin "Driftless Area" for 48 years. I guided for 5 years but grew weary of that. I write for Midwest Outdoors Magazine and Simply Fishing Magazine. My articles and photos have appeared in Field & Stream, Outdoor Life, Badger Sportsman Magazine, Wisconsin Outdoor Journal, Midwest Fly Fishing Magazine, Hatches Magazine, Far & Away and most recently I had a story and photos "Expedition Piece" in American Angler Magazine. It was called "The Driftless Heart". I am a regular contributor to The Boscobel Dial, Crawford County Independent, Richland County Observer, and Prairie Du Chien Courier Newspapers. I have appeared on numerous local fishing television shows. I have spoken at many TU Chapters and was a featured speaker at the Madison Fishing Expo 2010. I like Grandt rods because they are sensitive enough to feel the whisper of a bite from a persnickety small stream brook trout and have the backbone to turn those HUGE driftless area browns from going under log jams.
---
Dr. Richard Cambria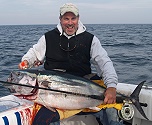 Blufin Tuna fishing in the northeast has commercial and sport fishing components to it. Casting to surface feeding fish has become one of the highlights of cape cod sportfishing. Only problem is these fish have rapidly grown in each year class to rapidly eclipse standard casting and or fly rod gear. Stories of exploded 14 wt fly rods and gnarled spin gear abound as these fish have pushed the 200 plus lb. size this year. Big time drag (up to 40 lbs!!!) and stout rods are mandatory. Enter the Grandt Series of spin and fly rod gear. Pictured here is a 90 lb. Blufin subdued in 20 minute on the grandt 14-15 weight saltwater fly rod and fly line with 60 lb. core. Angler Dr. Richard Cambria leans the Grandt XVH and 80 lb. braid into a 125 lb. Blufin Tuna, this fish was landed and released in 30 minutes.
---
David Duche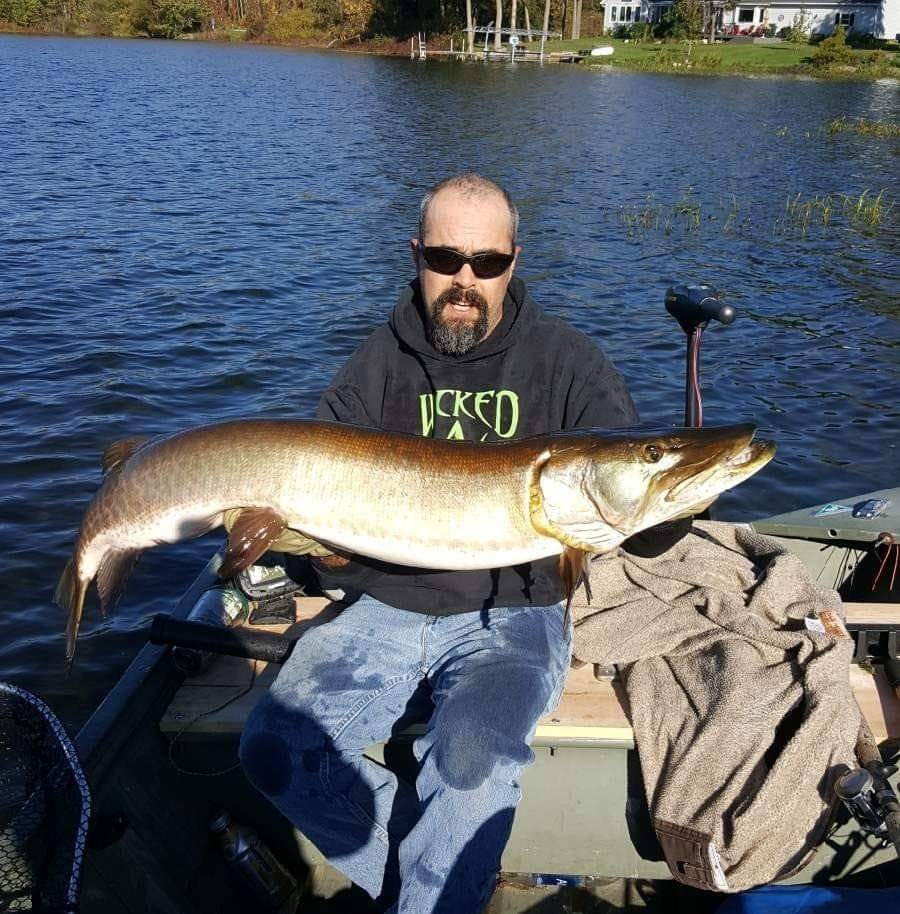 I have been an avid angler my entire life. It started with bluegill and bass as a child. As an adult it grew into walleyes and other predators. Then twenty two years ago it took a turn into the pursuit of the fish of ten thousand casts. The ever elusive muskie. In those years I have gone from a novice to a teacher and builder of my own line of muskie bucktails. I have just taken the next step into the professional level of muskie angling. I am very excited to be part of the Grandt rod's pro staff team. After talking with Jim I learned of all the little extra details put into the manufacturing process that Grandt Rods goes through. As a machine builder, I understand the need for perfect balance and long term durability. I believe anyone who talks with Jim or anyone from Grandt Rods Team will definitely learn something new. I am sure these rod's will help put more fish in the boat.
---
Mike Yeagley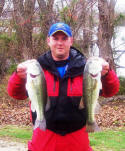 Being a military family I have had the opportunity to live in a few different regions in the US and a Grandt Rod has always been with me. From walleyes to channel catfish in North Dakota to Florida's gulf coast fishing for redfish, speckled trout and even off-shore a Grandt rod has done it all for me. I have also fished hundreds of bass tournaments throughout the Midwest when I lived in Illinois. With the same company having so many different lines that will catch anything that swims why go with anyone else? If you are a hard core tournament angler or just loves to fish with quality equipment, Jim Grandt will have a rod for your needs.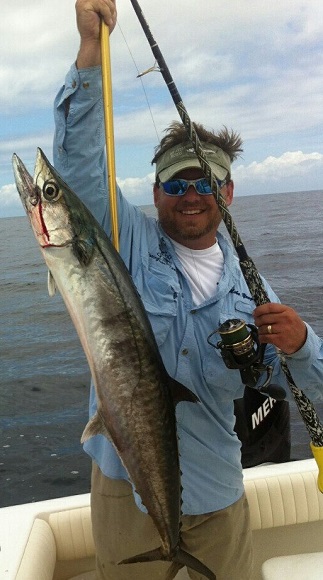 What makes Grandt Rods stand out in front of the other rod companies is that they are a manufactured in the USA with nothing but the highest quality graphite and components. The technology in Grandt Rods is nothing other companies can do with imported rods. There is a huge difference in the sensitivity and control over the fish you're catching with a USA manufactured rod. Jim Grandt's knowledge and craftsmanship is hands down the best in the industry. Plus all of Grandt Rods are backed with the best warranty in the business, Unconditional Lifetime Warranty!.
---
Hall of Fame Bob Mehsikomer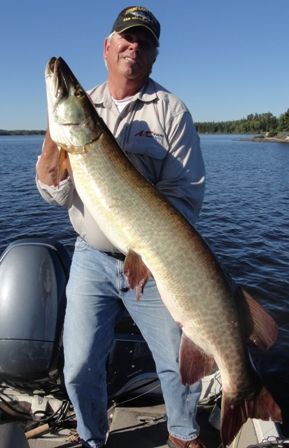 Caught and Released more than 100 Muskies over 50"

The Action and Response in my 8'0 Big Dog XLH70 bucktail rod would be nothing short of perfect.

The Custom Reel Seat is the best I have ever used. The ability of resting the rod in my hand with defined separation between three fingers insures a confidence in the grip unlike anything I have ever experienced. I had a HUGE 52 incher throat me at boat side and I am more than confident the successful safe catch and release of the HUGE FISH was in part due to the secure grip obtained by using this unique seat and grip.

The casting ability of the rod is outstanding and I attribute this in part due to the superior modulus and design in the graphite of the Big Dog Series rod. This also lends another asset to the rod in the form of weight reduction which I found in the Big Dog rod. "Pretty Freaking Impressive rod if you ask me"

Simply Fishing Extreme Television
---
Violet Talley Pro Angler
"Partnering with Grandt Rods has been one of the best decisions I have made in my fishing career. As a bass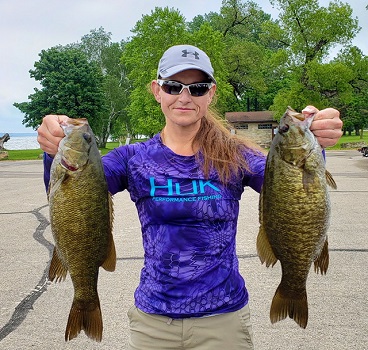 tournament angler, every second counts and my equipment needs to be reliable, strong, lightweight and of the highest quality possible. I used several rod brands on the market to try and find one tried-and-true brand that I can trust 100% in all categories and the only one out there is Grandt Rods. I love the Grandt Slam line, however, there are so many lines to choose from that I will never need to carry multiple rod brands again! Not only can I trust that my Grandt Rods will perform perfectly with each cast, but that they were made of the best quality materials, made in the USA and backed by a lifetime warranty. There is no other rod brand on the market that can even come close to the high standards of a Grandt Rod… and let's not forget the team of people behind the brand! Not only am I partnered with the best rod brand on the market, but the best people in the business that stands behind the quality and craftsmanship of each and every rod at Grandt Rods."
---
Chuck Munnings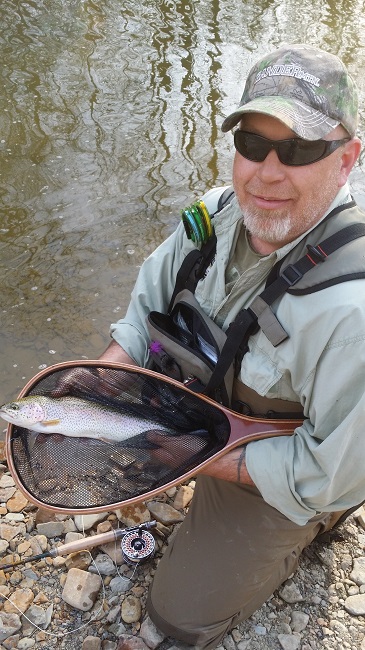 I have used Grandt Rods exclusively for nearly ten years; it is simply the best rod on the market. I fish the famed steelhead alley in Ohio and Pennsylvania. From steelhead to Salmon and Brown trout Grandt Rods can handle the abuse these fish hand out and remain the most (lite bite) sensitive; strongest rod I have ever had the pleasure to fish with. From trolling or casting for Lake Erie walleye and smallmouth or sneaking up on western Pennsylvania's native browns and brookies the Grandt fly and spinning rod line is second to none. No other rod on the market can or will offer what Grandt rods offer. Pure craftsmanship that is made in the USA with a life time warranty. Fish On!!!!!
---
Clarence Ewert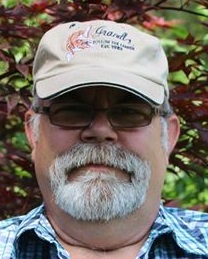 My name is Clarence Ewert. I am a 3rd generation Carpenter. I have always loved to fish and to tournament bass fish. I have been tournament bass fishing for 30 years. I have used many different rod manufactures over 20 of my tournament years, including custom made rods. But 10 years ago, I was introduced to a man named Jim Grandt (and his wife Jacqueline) and he introduced me to his fine line of custom USA made fishing rods. Now 10 years later, these are the only rods that I have in my bass fishing arsenal. They are truly the most sensitive rods that I have ever put in my hand. For the past five years, I had carpal tunnel in both hands and no feeling in my fingertips but I could feel a bite on slack line with these rods. Now that I have had the carpel tunnel surgery done, I can't believe what I have been missing. These rods are truly amazing and sensitive. In 2014 and 2015, I won angler of year back to back. I owe all of my success to my Grandt rods.
---
Devin Miller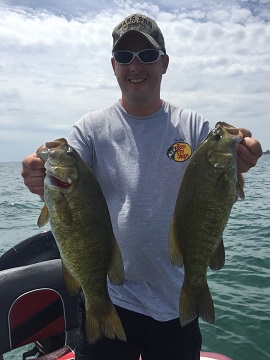 When your on the water as much as I am, Weather its fishing a tournament or not you rely on your equipment. Just like a mechanic relies on his tools. One of the most important tools of fishing is your rod. You need a rod with the sensitivity to feel those really soft hits when those fish are lazy. However you also need a rod with the durability, strength, and backbone to control land that monster to win that tournament or catch that fish of lifetime. I have fished with a lot of different rods. I didn't realize how many fish i was actually missing because of soft hits until i got a Grandt Rod. The sensitivity and strength of grandt rods are amazing and when you add grandt rods unconditional lifetime warranty makes these absolutely superior to any other rod on the planet. From freshwater to saltwater Grandt rods is the only way to go. Plus they are made in the U.S.A. from the finest materials and the best craftsmanship I have ever seen! A Grandt Rod is the only rod i will ever fish with. Check them out I guarantee you will be hooked!
---
Peter J. Meier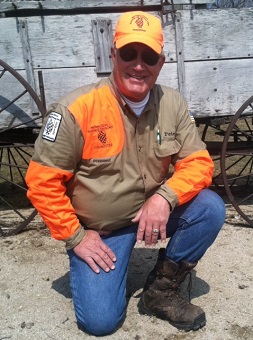 I have fished since I was 7 years old, and by all means, GRANDT Rods are the BEST on the market.Quality and perfection has gone into every rod you make! I now own quite a few GRANDT RODS and swear by them to be the best out there! Being in the Outdoor Industry as President of Northern Illinois Hunting and Fishing Days, I now can spread the word out to many more People about the Quality and Perfection that goes into every rod you build! Thanks for a Superior product!
Here are just a few photos of myself using the awesome Ultra Light Spinning combo.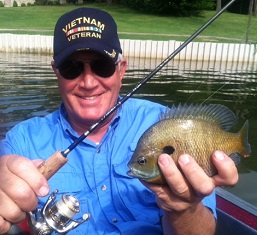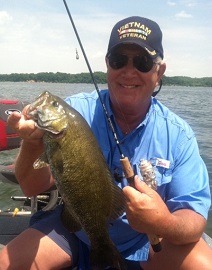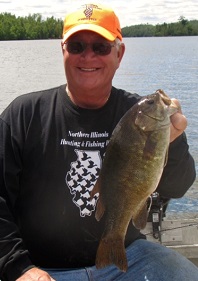 ---
Mike Mladenik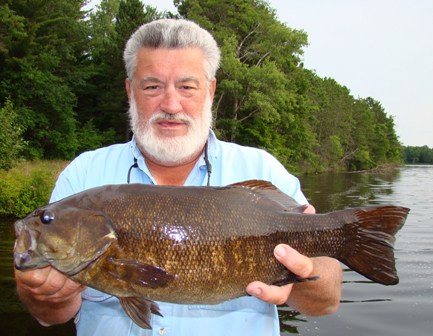 When you spend over 180 days a year on the water you need the right tools to get the job done. Whether I am searching for active smallmouth with a crankbait or using a finesse presentation on a deep clear lake, I know I can rely on Grandt Rods.
With their cutting edge technology they have developed a rod for every situation an angler can encounter. When my clients use a Grandt rod I know that they will be able to detect the lightest bite and the rod will have plenty of power for a good hookset. This result is a happy client.
With over 30 years of guiding experience I have used a variety of different rods but none can hold a candle to a Grandt rod. They are simply the finest rods I have ever fished with.
Accomplishments: 30 years of a professional Guide
1000 plus 20 inch smallmouth bass caught
Author of 10 fishing books
Big Smallmouth Guide Service
(Jim Grandt Recommended)
---
William Cisler

From the All American Series to EGlass and Stealth, I am proud to have my hands wrapped around Grandt Rods! These fishing rods are TRUELY the most sensitive that I have ever used. Plus, Grandt Rods are American Made and come with a Lifetime Warranty, the Best in the Business. So if you are a tournament angler or searching for dinner and want a new high quality fishing rod with superb sensitivity and dependability, check out Grant Rods and REWARD yourself with a fishing rod that will last you a lifetime! ACCOMPLISHMENTS
2002 BFL Boater Rookie of the Year
2002 BFL Kentucky Lake Regional Champion
2003 BFL All American Qualifier
2009 TBF MI State Team Qualifier
2009 TBF MI State Regional Team Champion
---
Chris Standhardt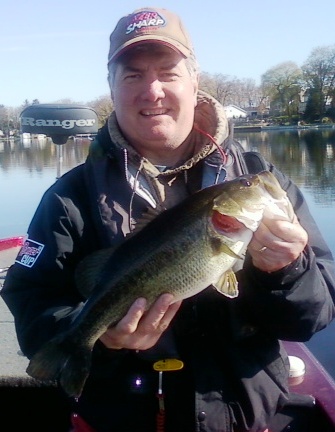 Being able to feel the fish bite and control them after the hook set, is the key to landing a lot of fish and winning tournaments. Grandt rods are by far superior to any other rod manufacturer out there, and they are made here in the U.S.A with an unconditional lifetime warranty! Just pick one up and you'll be hooked for life. My favorite rod is the newly released Payara Featherweight series. Just try it drop shot finesse fishing, and you'll know why. The sensitivity is unbelievable, especially when the fishing gets tough, and tournaments are on the line. ACCOMPLISHMENTS:
NBAA Championship Qualifier
2013 Kentucky Lake
2012 Patoka Lake
2011 Kentucky Lake
2010 Patoka Lake
2009 Houghton Lake
2008 Ohio River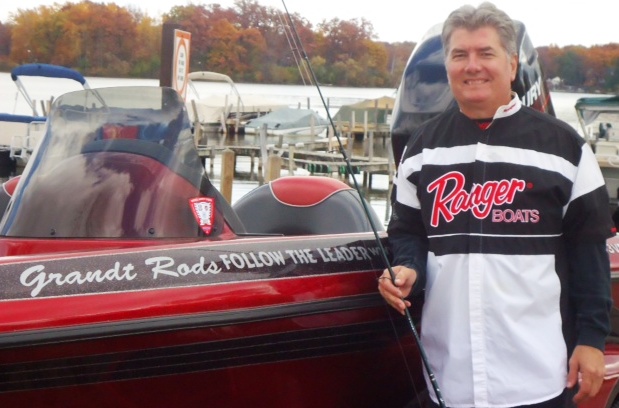 Current statistics:
2012 – NBAA Division 53 – 2nd place overall
2012 - NBAA Division 40 – 13th place overall
Other items:
2009 – Lazer Sharp White Division – 2nd place & 2nd Big Bass
2009 -- Lazer Sharp Red Division – 11th place & 3rd Big Bass
2008 – NBAA Oakland County One on One Points Champion
2003 – Michigan B.A.S.S. Federation Classic Champion
---
Nick D'Andrea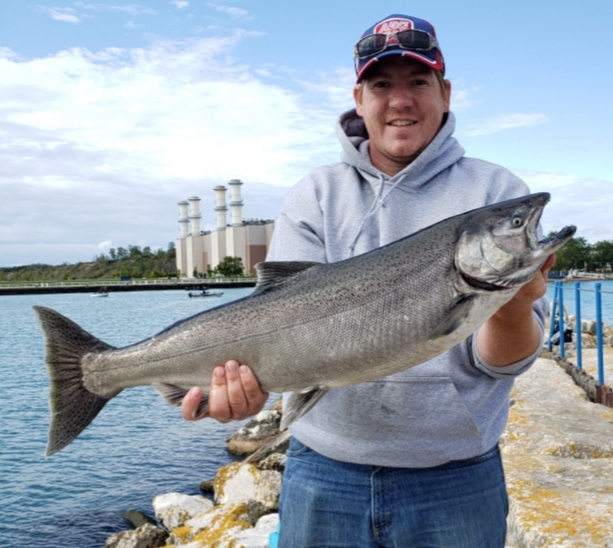 Since the late 90s I have been fishing from shore & occasionally by boat Lake Michigan. My favorite areas are St. Joe,MI - Chicago & all the way around to Port Washington WI. Targeting Bass, Perch, Pike, Salmon, Steelhead & Trout. I'm on the water 2-3 days a week and as you know that can be tough on your equipment. Throughout the year I can easily go through 3-4 rods per season. That's why I am excited to work with a quality rod company like Grandt Rods. Jim Grandt impressed me with the quality, sensitivity and durability of his rods. I have caught multi species on these rods every outing, the best.
---
Mike Smith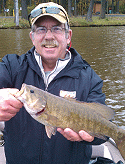 My favorite fish to target are bass, both largemouth and smallmouth. Sometimes, when the bite is light, I rely on the sensitivity of my Grandt rods to catch fish. Never have I fished with a rod with more "feel". I also count on the strength of Grandt rods when trying to put these hard fighting fish in the boat. The warranty is unsurpassed. Whether fishing in tournaments, or fun fishing with the grandkids, I always have a Grandt rod in my hands.
---
Bill Stanwyck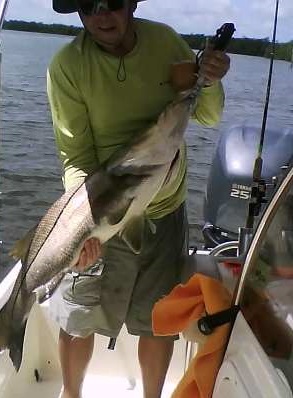 I've been fishing Florida waters with Grandt Rods for over 10 years. Much of the fishing I do requires an extremly strong and sensative rod - all of the qualities neccessary when fishing for Snook, Redfish and Tarpon in South Florida. The XLH70 Series rod by Grandt has exceeded all of my expectations. Grandt Rods are by far the most sensititve and best rods I have ever used.
---
Craig Thaler

VIP: Grandt rods are a piece of artwork. The craftsmanship is second to none. I have fished with Fenwick, ST. Croix and Loomis, they all fished well until I fished with a Grandt rod. with the Grandt XL70 you just don't feel everything ,when the fish strikes the rod and you become one. I have caught sharks sailfish dolphin , northern and big Muskies including five walleye's 30" plus. my biggest thrill was most recently landing a 32" walleye on a Grandt XL70. Thank You Jim.
---
Kyle Boe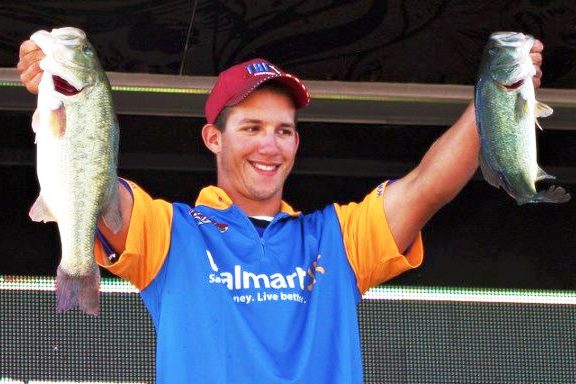 From thick back water cover to rock, sand, or grass my Grandt rod can handle it all.As a tournament fisherman the choice of rod I pick is absolutely critical. Grandt Rods are truly the industry leader. Grandt offers the most sensitive, durable and sophisticated line on the market today. Also, all rods are made in the US and offer an unconditional lifetime warranty, the best in the business! I love the All-American Series of Grandt Rods and a 6'6 medium spinning rod is my preferred choice. I can trust my Grandt will give me extreme sensitivity and back bone in all fishing and tournament conditions. The choice is clear, fish with Grandt or "Follow the Leader!"
---
Dan Mason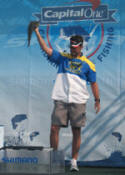 Professional Angler: With the volatile waters I fish in the great lakes I need equipment that I can depend on and is as tough as the conditions I face. Jim's All-American Series Rods are proven winners in my boat with a rare combination of unmatched sensitivity and toughness as well as being backed by the best warranty in the business Jim's "Lifetime Warranty". If you are serious about catching the big ones where they live then I recommend you pick up one of Jim's Rods from his All-American Series to his to new revolutionary Stealth Series at Grandt Industries, you will not only see the difference but "feel" the difference of the finest product on the market today. ACCOMPLISHMENTS
11 1st Place Finishes
10 2nd Place Finishes
11 Big Bass Awards
42 Top 10 Finishes
Two Time ECBA Team Of The Year 2003-2006
3rd Place Pro Division @ Canadian Open Presented by Capital One 2008 and 11th
Website: www.danmasons.com
---
Lincoln Buchanan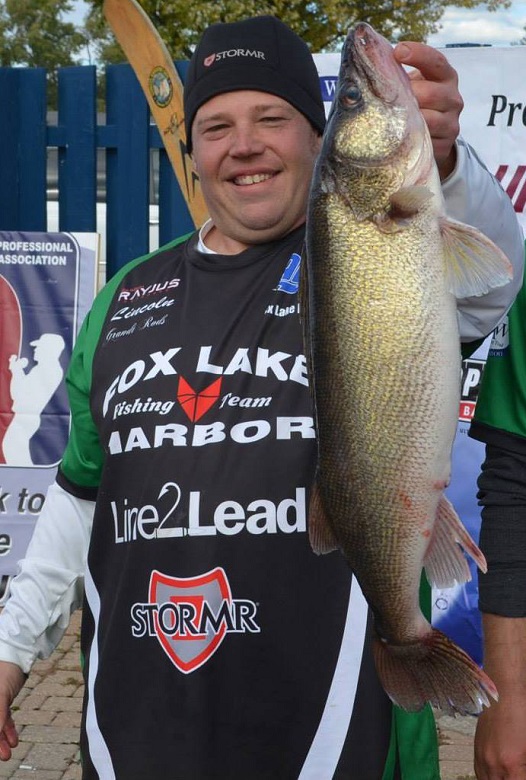 Whether jigging for spring walleye or rigging deep water in the fall, the unmatched quality and sensitivity of Grandt Rods is a huge factor in putting more fish in the boat. Putting a lot of time on the water being a tournament fisherman the need for a durable rod is key. Grandt's lifetime warranty is top notch, knowing if there is a problem it will be taken care of quickly. I stand behind every product I use and the fact they are made in the USA makes me back them that much more. Fishing Achievements:
Multiple Top 5 Overall Finishes In WWA Fox Chain
Multiple Cabelas NTC Qualifications
3rd place finish WWA Championship
2014 WWA Team Of The Year
---
Jason Madigan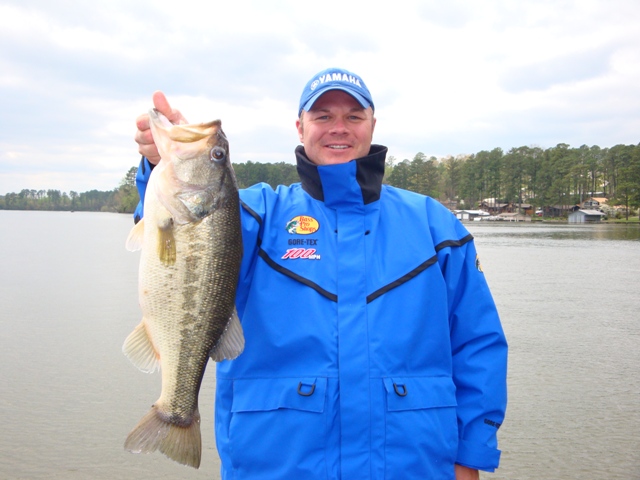 Grandt uses the highest quality components available for the construction of eachfishing rod which makes each rod highly sensitive and durable. All rods are made in the U.S.A. and are backed up with a lifetime warranty. BEST IN THE BUSINESS! I own a variety of Grandt Rods for specific techniques and situations. Each rod has its place in my arsenal and fits my style of fishing perfectly. Whether I'm cranking deep ledges on Guntersville for lunker largemouth or drop shot finesse fishing on St. Clair for finicky smallmouth, I always have my hands on a Grandt Rod. ACCOMPLISHMENTS 2010 Tournament Season 5th Annual NBAA St. Clair Open - 10th place Monster Quest II, St. Clair - 3rd place NBAA St. Clair Double Barrel Shoot Out division series - 6th place NBAA St. Clair Sunday St. Clair Challenge division series - 6th place NBAA Championship Qualifier 2011 Kentucky Lake 2010 Patoka Lake 2009 Houghton Lake 2008 Ohio River Bass Fishing League 2003 Detroit River Big Bass Award 2002 Kentucky Lake Regional - 18th place 2002 BFL Michigan Division Tournament Series - 5th place
---
Kevin Moore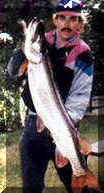 The second you hold a Grandt Rod, you know you have found something special. I really like the large diameter guides on the musky rods. When casting while guiding or in tournaments for 9 hours, you appreciate the lightness and sensitivity of these top quality tools. By far the best rods in the world. The Kevlar rods are awesome cold weather sucker rods and unbeatable for trolling. These rods are works of art. Add a lifetime warranty and how can you use anything else? ACCOMPLISHMENTS
Has been fishing/guiding for Muskies in S.E. Wisconsin since 1981
Professional musky Tournament Trail team
Was technical advisor and live game fish supplier for a national battery commercial that was seen during game 7 2001 World Series and many NFL games (Grandt Rods were used in the commercial. 3 times IN FISHERMAN MASTER ANGLER Featured in 3 outdoor articles in 2 years.
Website: www.muskiesetc.com
---
Eddie Butts

Sensitivity is the Key. The rods are very sensitive, yet they take a beating and hold up very well. I do a lot of vertical jigging for walleyes, and the rods account for all of my strikes. The trolling rods don't tire me out because I'm not fighting with the rod. They are the very best!! ACCOMPLISHMENTS
I have fished the (MWC) Walleye Circuit for 10 years with great success.
I have been in several articles featured in sporting articles in the Milwaukee Journal Sentinel and The Outdoor Times.
I have appeared in the television show "On The Water Adventures with Captain Doug Schreiber.
I have appeared in a television commercial for Cedar Lakes Sales.
I am the singing voice for the "American Family Insurance" commercials. I have had my own band (The Eddie Butts Band) for several years and travel the mid-west performing.
Website: www.eddiebuttsband.com
---
Jeff Melsop

Professional Angler: Hello, my name is Jeff Melsop I have been using Grandt Rods for the past year, and I could not be happier. The weight and sensitivity of these rods are the best I have found in the market. I Fish the BASS weekend series, the Wal-Mart BFL, along with many local tournament circuits. Grandt Rods have put more money in my boat than any other rod bar none.
---
Brian Kucharski

Professional Angler: Why use Grandt Rods because, they are the most sensitive fishing rod on the market today. Not to mention, they come with the best warranty in the business. No other company can match that, and Grandt Rods are also 100% U.S.A. made. Hands down, you won't find a more durable, yet ultra sensitive fishing rod on the market !!! Using only state of the art technology, to compare a Grandt Rod to others, would just be wrong. That is like comparing grapes to pineapples, a fine wine to box wine, a Honda, to a Lamborghini!! Why you ask.... From the rod blank, down to the finest components used, everything that goes into the making of a Grandt Rod is TOP NOTCH, FIRST CLASS, SIMPLY the BEST OF THE BEST. All graphite is run linear down the rod blank to give you the most ultimate in sensitivity. Pick up a Grandt and you will feel the difference between: mud, sand, rock, wood, weeds, bottom, and everything you have been missing. Now when mentioning all that, accompanied with awesome hook setting power... Well, using a Grandt Rod will help you to PUT MORE FISH IN THE BOAT!!! So, go out and buy yourself some Grandt Rods, for all those reasons. You will become a believer also. Along, with his LIFETIME REPLACEMENT WARRANTY, it will be the last rod, the only time you will ever have to buy that rod again!! Simply a no brainer !! Jim is truly a genius, and way ahead of his time when it comes to the making of Grandt Rods. ACCOMPLISHMENTS
Biggest largemouth on a Grandt rod - 11 pounds 8 ounces.
Biggest smallmouth bass on a Grandt rod - 6 pounds 2 ounces.
Been in the money $$, in local bass clubs and various tournaments all over the country, using only Grandt rods.
Many first place finishes, and numerous top ten finishes.
---
Rich Newton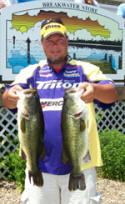 Professional Angler: The superior sensitivity, quality components and unmatched durability combine to make Grandt Rods The rod to use if you are a serious angler. Couple that with the lifetime warranty and the reason to fish with Grandt Rods is obvious. With Grandt Rods you will catch fish that you wouldn't even know were there with other rods. Every series of rods Grandt manufacturers are outstanding which is why I use multiple types. The All American Pro Series, the Reserved power series and the E Glass cranking rods are all weapons in my arsenal that have been my key to success.
---
Captain Rick LaPoint

Professional Guide: In my guide business rods get mishandled, abused, and banged around 250 days a year. They perform as well on the 1st day as on the 250th day! Simply the finest rods I have ever used, with the best warranty in the business. ACCOMPLISHMENTS
Heartland Pro-Am Table Rock Champion 25.18 lb. 4/13/2008
Finished 1st Weekend Warrior Championship
Finished 1st Central Pro-Am Championship - 2007
Finished 1st Best of the Best Championship - 2007
Won Missouri BASS Federation State Championship 2003
Visit Rick's Chauffeured Guide Service, Inc
---
Vince Weirick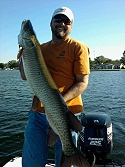 I guide for the king of freshwater, Muskies... everything else is just bait. I fish with Grandt rods and can say the same… everything else is just bait! These rods are absolutely amazing. The first time I held onto one of these pieces of art I knew I wouldn't ever throw anything else again! From fishing for muskies with light tackle and fly rod equipment to the heavy rods for big baits there is no other comparison. The warranty is unmatched only because the craftsmanship that goes into these masterpieces is unrivaled. Why keep having to replace lesser rods when all you need is a Grandt? Website: www.vinceweirick.com Accomplishments:
Indiana Muskie Classic 1st, 3rd and 4th place finishes with fields of 80+ teams.
Over 10 top 3 finishes in the Webster Lake Musky Club cash tournaments
Featured article in In-Fisherman Muskie and Pike Guide 2010
8,000 member Muskies Inc. Members Only Fishing Contest top 10 finishes of 3rd, 9th and 9th. 2006-2008
Seminar speaking for multiple fishing organizations
Only Indiana muskie guide promoting Fly Fishing for muskies
Big fish winner of Webster Lake Musky Club cash tournaments 2006
2 clients registered for Indiana Muskie of the Year 2009 with 49" fish
Featured in many newspaper articles written by outdoor enthusiasts
---
Bob Simpson

The Grandt Rods provide the best combination of sensitivity, durability, and casting distance of any rod I have tried. The rods load better than any graphite rod I have every tried resulting any extra casting distance. When your out casting with your friends it's always nice to be getting that extra 5 to ten yards more distance when you both throw the same lures. It's a simple theory. The more time your in the water the more chances the fish have to grab on. Jim Grandt refinished an heirloom Bamboo fly rod for me three years ago. It is a pleasure to fish with and looks magnificent in a display case. I usually have one Grandt rod on my Christmas list every year. ACCOMPLISHMENTS
I have fished the (MWC) Walleye Circuit for 10 years with great success.
I have been in several articles featured in sporting articles in the Milwaukee Journal Sentinel and The Outdoor Times.
I have appeared in the television show On The Water Adventures with Captain Doug Schreiber.
I have appeared in a television commercial for Cedar Lakes Sales.
I am the singing voice for the American Family Insurance commercials. I have had my own band (The Eddie Butts Band) for several years and travel the mid-west performing.
Visit Eddie Butts Bands Website
---
Bubba Ray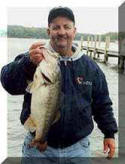 Professional Angler: I like many fishermen use a variety of rods for different bodies of water. Whether I'm fishing the grass beds on the Potomac, bushes at Kerr Reservoir, or the tidal James River, the durability, sensitivity and hook-setting power of Grandt Rods far surpass any other rods. ACCOMPLISHMENTS
2000 Finished 1st in Red Man (BFL) Super tournament (170 entries)
2000 Pro Am Tournament finished 10th for the year (220 teams entered)
2002 Finished 1st in Championship Teams Circuit (175 teams entered from Pennsylvania, Maryland, North Carolina, and Virginia)
Qualified for the National Team Tournament Two years
Qualified for the Virginia State Bass Federation Tournament sixteen years most recent years finishing 6th, 7th, and 16th with (350) entries
Finished 1st in Big M Bassmasters four years, finished 2nd four years Mr. Bass Tournament for State of Virginia, finished 5th (202) entries
---
Bob Hendricks

Virtually every fisherman that I have let use my Grandt rods has ended up buying one. The sensitivity and quality far surpasses anything on the market today. ACCOMPLISHMENTS
Outdoor Writer: Contributes to Midwest Outdoors, Wisconsin Waters and Woods, Adventure Sports Outdoors, Hancock Journal Pilot, Fishing Facts.
Field tester for hunting and fishing Equipment.
Promotional writer.
---
Jim Konas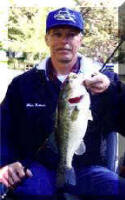 Professional Angler: Since I started using Grandt Rods my tournament success has risen greatly. instead of contributing I am now cashing checks. The super sensitivity and extra strength allow you to feel the lightest bites, and land big fish in heavy cover. Jim simply builds the most sensitive and strongest rods made and that is why he can cover them with the best warranty out there. ACCOMPLISHMENTS
6 - 1st Place Finishes
21 Top Ten Finishes
1 - 1st Place Classic Championship
3 Big Bass Awards
1 Illinois Bass Federation 2nd Place Finish 8 Man Team
1 Illinois Bass Federation 3rd Place Finish 8 Man Team
2000 C-U Bass 7th Lake Shelbyville
2000 C-U Bass 1st Clinton Lake Open
2000 C-U Bass 1st Lake Shelbyville
2002 BFL Illinois Division 7th Lake Shelbyville
2002 BFl Illinois Division 5th Lake Shelbyville
2002 BFL Illinois Division 13th Super Tournament Smithland Pool
2002 Ron Ward Memorial Tournament 2nd Lake Shelbyville
Owner and Lure Designer J.D. Lures
---
Bud Fields

Professional Angler: I have used practically EVERY rod on the market today but when I held a GRANDT ROD in my hands I KNEW, without a doubt, I had found the BEST rod available. QUALITY, SENSITIVITY, DURABILITY and LIGHTNING FAST hook setting power that ALL serious anglers expect. The 100% LIFETIME WARRANTY is FANTASTIC. Jim and Jacqueline Grandt are committed to customer satisfaction. I retired from Chrysler Corporation after 35 years of involvement in Quality Control and I DEMAND and APPRECIATE quality in the equipment I use. I find that quality in GRANDT RODS. ACCOMPLISHMENTS
Competes in 80-90 bass tournaments a year.
Qualified for 11 consecutive KBA CLASSICS
KBA "Dick Cope Award" recipient 2005
KBA "BASS ANGLER of the YEAR" CLASSIC CHAMPION
Logansport Bass Hustlers Sportsmanship Award recipient three years in a row
"We Care" Bass Tournament Champion Team Hoosier Outdoor Writers Association Active Member
Hunting and Fishing Instructor Public Speaker Jim "Moose" Carden's Kid's Fishing Clinic Co-Director
Conducts deer hunting and bass fishing seminars
Outdoor Columnist for Kokomo Perspective newspaper
---
Larry Erfort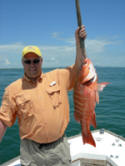 I have fished Grandt Rods since 1990 and find them to be the most sensitive and strong rods I have ever used. I like to fish for a variety of species, from fresh to saltwater and wouldn't dream of using anything else. When my time spent fishing is so precious to me, I want a fishing rod that won't let me down. There are so many styles and actions that you couldn't possibly come up short with a Grandt Rod! ACCOMPLISHMENTS
Finished 7th in the 13th annual Jim Grandt Tarpon Tournament in Costa Rica.
---
Kurt Dollar

Grandt Rods are the strongest and most sensitive rods I have ever used. My first rod was an XLH70 6' - 6" Ultra light that I used for spring bass fishing. I was shocked at the strength of this rod when I caught a 9 lb. walleye with this rod, and other Ultra Light rod would have snapped like a twig, but not a Grandt rod. Currently I fish professionally in Walleye tournaments on Lake Erie and have used Grandt Rods exclusively and would never consider another brand of rod. Grandt Rods will definitely make you a better fisherman.
---
Chuck Snyder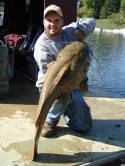 Grandt Rods are by far the best rods I have ever had my hands on. I fish 30+ catfish tournaments a year, and at least three times a week for trophy flatheads. I need a rod that can take brutal punishment time and time again. Grandt Rods can handle all cat fishing scenarios, from dip baiting channels, to trophy flatheads, or casting huge chunks of shad for them monster blues. I fish the All American Pro Series DR70C, and I will never purchase another rod other than a Grandt Rod. With a true lifetime warranty and USA made, what more can you ask for? If you haven't fished a Grandt Rod yet, you haven't fished with the best! ACCOMPLISHMENTS
Personal Best Flathead of 47lbs (MWCD Lakes, OH)
Personal Best Channel Cat of 12lbs (Killbuck Creek, OH)
2009 TCBA Largest Flathead of the year
---
Bob Lesner

I have been using Grandt Rods for approximately 15 years. In both freshwater and saltwater, around North America/Central America. From brook trout to tarpon , Grandt Rods supplies me with the combination of sensitivity and power to do the job. Jim builds a beautiful rod that because of the warranty you are not afraid to push the limits of your equipment.
---
Captain Nick Karas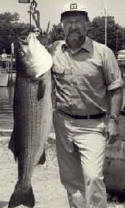 The perfect companions for the ultimate in finesse fishing for striped bass, albacore, bonito, weakfish and bluefish. Truly an extension of one's arm when connecting with a fish. It's not what you catch that is important but how you catch it and that's where a Grandt Rod makes a difference. ACCOMPLISHMENTS
TNYS guide's license and USCG Charter boat captain 25 years, specializing in sight-fishing or finesse angling.
Outdoors columnist for NY Newsday and NY Times; Ichthyologist, Books: "The Striped Bass" and "Brook Trout".
Fished as a press angler in the first 14 Bassmasters Classics
Website: www.saxatilischarters.com
---
Eric Hendricks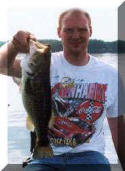 My hookups on fish have increased 50% since I began using Grandt rods. The sensitivity of a Grandt rod is only equaled by the artistic beauty that each rod carries. ACCOMPLISHMENTS
Outdoor Photographer - Have had photos published in several publications. I specialize in outdoor photos as well as action photos in motor sports.
---
Ray Hansen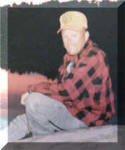 Serious anglers need dependable gear designed for long life, that meets specific angling challenges under all conditions. Grandt rods deliver every time! ACCOMPLISHMENTS
Active member of the Outdoor Writers Association of America and the Association of Great Lakes Outdoor Writers.
Staff writer for Midwest Outdoors and Fishing Facts magazines.
Freelance features published in over forty outdoor publications.
Voted "Favorite Writer" by Midwest Outdoors readers in 2001.
Frequent trips to lakes and rivers throughout the Midwest to generate material for articles.
---
Keith Yaddaw Grandt Rods is proud to have Keith Yaddaw as part of our Elite Pro Staff. Keith has fished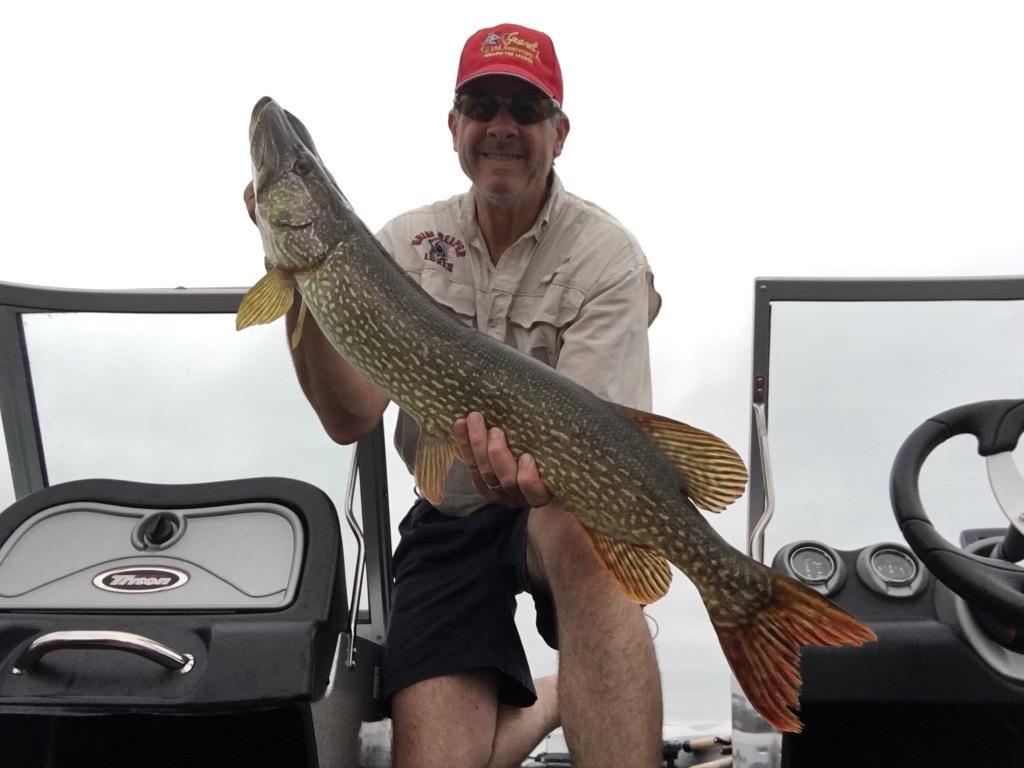 multispecies from coast to coast including Ontario, Quebec, Alberta, British Columbia, Alaska, and Spain as well as all across the country. His passion is Hunting Trophy Pike and Musky to which he has been fishing the St. Lawrence River in the Thousand Island region for almost 5 decades and boated his personal best musky at 54". Keith Yaddaw has competed in the PMT Musky Trail along with other tournament species across the country. Keith has been fishing GRANDT RODS for more than 20 years and he contributes a lot of his success to the Payara and Cuda Lines of GRANDT RODS. Keith Yaddaw has also guided along the way and enjoys working Outdoor Shows and is a great friend of Jim and Jacqueline Grandt and the GRANDT RODS TEAM..
---