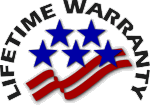 Requesting A Signature May Cause The Package To Be Returned.
DO NOT Ship Any Rods to the P.O. Box or they will be returned!
The Industry's Finest
If an All American Pro Series or XLH70 fishing rod is broken, ship that rod to Grandt Industries along with a letter of explanation. Include your name, address, phone and email along with a check for $50.00, per rod for warranty processing. Grandt Industries will then repair or replace the fishing rod and return it to you as soon as possible. We will observe the rod's damage and review the customer's previous warranty history to determine at that time if there is any abuse issues.

Normal wear and tear as in cork handles, worn reel seats, etc. are NOT part of our Lifetime Warranty for replacement or repair without a charge. Please call our office for a quote if you have any normal wear and tear. This will be determined by Grandt Industries, Inc.
NO warranty will be processed without prepayment of the $50.00, per rod. (This fee may change with current freight and handling conditions, and no warranty will be processed without the current rate).
If we are in receipt of a warranty fishing rod not accompanied by a check or money order you will receive notice of the balance due.
If a check, money order or credit card number is not received within 60 days, the warranty on that fishing rod will be null and void. A 2.5% charge will apply to any warranty processed by credit card.
This warranty does not apply to any private label and only Grandt name brand customers. Blatant abuse will void this warranty. IM3000, XLH3000 and XLH52 rods have a one year warranty replacement and are not part of our Lifetime Warranty. Split Bamboo Rods are not covered by this warranty due to the material itself and elements it can be exposed to. Any multiple piece fishing rod sent back for warranty must include all pieces.
Please note all warranty rods sent in must be shipped as they were broken. If you cut the rod in any way to ship your warranty, it will be denied due to our policy. Please ship your warranty just as it was broken to fulfill your full warranty privilege. Any rod that has been repaired by anyone other than Grandt Industries at any time will be denied due to our policy.
If you would like to track your shipment, please provide your email address along with your shipping information.
"This warranty does not apply to rods broken by airlines or freight carriers."
Lifetime Warranty on Grandt Rods is valid to the original purchaser only with proper original receipt and proof of purchase.
Any rod shipped out of the country for warranty or otherwise will need to be quoted by us.
Warranty rods that are to be repaired or replaced are normally shipped within 3 to 6 weeks after Grandt Industries receives the rod. Any fishing rod longer than 8'0" is subject to additional charges due to oversized fees from FedEx. Call for rates and specify reasons for call. Thank You!
Golf Clubs offered by Grandt are warranted for one year for manufacturing defects only. Fees will be charged per warranty due to the weight of the package.
Any rods that are left at our office for more than 60 days will be considered VOID from our Lifetime Warranty. Items left after 60 days will be destroyed.
Please note that all purchases are FINAL. They are non-returnable and non-refundable. This policy is in effect for all phone, show, internet or any other means of ordering Fishing Rods and products. This is to ensure you always have brand new, high quality products at all times, and that we do not sell used or returned products to our customers.
Grandt Industries is a Manufacturer and does not offer a
DROP OFF or PICK UP SERVICE for WARRANTY PROCESSING...
NO EXCEPTIONS Please follow warranty information Provided.
Private Label
Grandt Industries, Inc. does not offer a warranty of any kind to any Private label company. The Private Label warranty to their customers does not include any from Grandt Industries Inc..Private Label rods are sold as is and have no returns, no refunds, and no exchanges of any kind.
When calling in regards to any warranty the staff answering your call should be able to answer any and all of your questions. If you have a more specific question that needs to be addressed, please give them a detailed inquiry for a return call. If you leave a message that is outside of what they have already explained, we will gladly call you back to address your issue. Please allow extra time for return calls during our sport show circuit (Jan 1 - Apr 10).
Warranty shipping address:
Grandt Industries
203 S. Highland Avenue
Arlington Heights, Illinois 60005