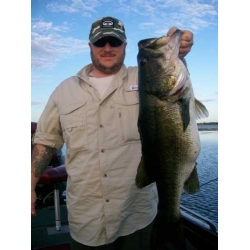 We took a bass fishing trip I took to central Florida back in October. I wanted to share this photo with you guys because it was my first double digit bass and I caught it on my Grandt XLH70, model XC166MHRP rod.
The bass was caught on Lake Tohopekaliga and weighed 10 pounds, 4 ounces. It was 26 inches long and 17.5 inches in girth.
I don't usually use this rod for live bait, but since all the fish we had caught up to that point were on wild shiners, i decided to give it a go. As you can see by the results, it didn't take me long to hook up with that monster. I fought her for a good 5 minutes or more and definitely credit the landing to the reserved power of my Grandt.
Oh, and for the record, she was released unharmed right after the picture was taken.
Thank you Grandt Industries for the best rods on the market today. Anyone not willing to spend the extra money on one of your fine rods is denying themselves the fish catching experience you can only get from a Grandt.
Toby Gifford
P.S. Thank you Brian Kurcharski for helping me make one of the best decisions of my life by purchasing a Grandt rod.