Grandt Pros Win Bass Tournament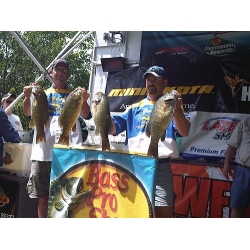 At the St. Clair Open on Saturday and the Monster Quest on Sunday, Wags and his partner finished in 3rd Place on Sunday and Dan and I took it all both days using Grandt Fishing Rods.
We took 1st Place in the Open with a total weight of 22.24 lbs. worth $5000 and 1st place in the Monster Quest with a total weight of 20.77 lbs worth $3000.
We were also awarded the Big Fish prize worth $500 in the Monster Quest. I've attached a photo at the weigh in of Dan and I, this was a pretty proud weekend for the both of us.
Talk to ya soon,
Jeff Gibson